We are currently operating in Phase 3: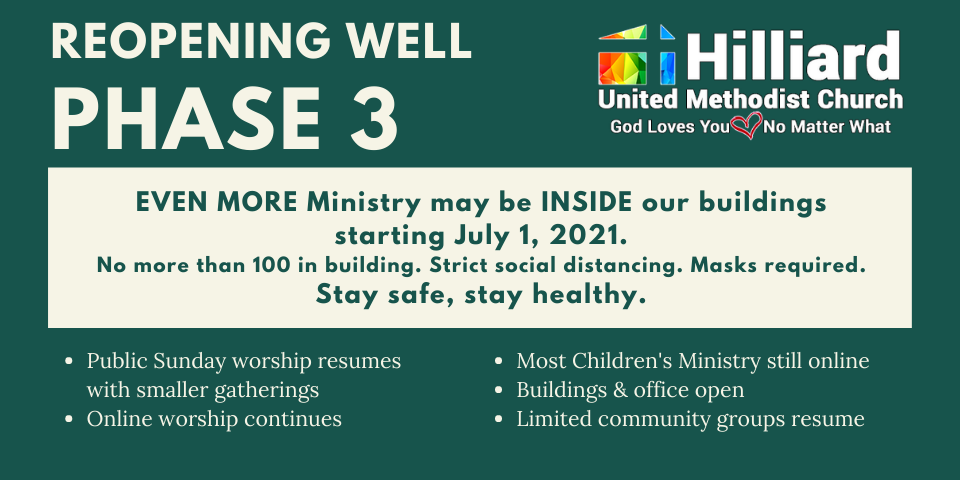 Worship will be offered in person and online at 9am and 11am in the Sanctuary
For now our in-person worship services will take place in the Sanctuary. This is so we can continue to livestream our worship services, which is an important part of our ministry going forward (and we only have the technology set up for this in the Sanctuary). In the coming months, we will work together to expand our tech teams and discern what worship in Warehouse 839 will look like in this next season.
Masks are Required Indoors
Masks are required for all indoor gatherings, no matter the size of the group, for everyone age 3* and older.
Gathering for worship is a much different activity than heading to the store or even dining at a restaurant. Our leadership continues to use the Updated CDC Guidelines for Large Gatherings to make responsible decisions for our context. These guidelines ask us to take stock of a few things:
Will children be present?
Will unvaccinated people be present?
Will folks be interacting with one another as they enter and exit?
Will there be hugging?
Will there be singing?
Will folks be seated near one another for an extended period?
When the answer to all of these things is YES, the guidelines continue to suggest that the safest route is to have everyone in masks.
*For children younger than 3, we recommend and encourage masks and ask parents to use their best judgment on what works for their child(ren).
Small Groups and Classes
Small groups & classes of any size are also required to wear masks when meeting indoors. When meeting outside, groups that are active and moving around will wear masks, especially when the group includes any unvaccinated persons.
When meeting indoors and when possible, we encourage you to leave doors and windows open for increased ventilation and to sit at least six feet apart. We encourage your group to meet outside whenever possible.
Masks Required for Some Outdoor Gatherings
We also recommend masks for all outdoor gatherings where social distancing can't be maintained (this includes the Farm Market). We know that the statewide mask mandate expired on June 2nd. The CDC guidelines, however, continue to stress the importance of practicing these social distancing and masking protocols in large gatherings in order to protect our immuno-suppressed friends, children who can't be vaccinated, and the most vulnerable in our community.
Connect Cards and Giving: Mostly Online
We will not have a paper worship folder/bulletin. For those attending in person, we will encourage you to use your phone to make your offerings and to complete the Connect Card. (We will have some printed Connect Cards if that works better for you, which you can pick up at the tables in the social hall and narthex). An offering plate will also be available for you to drop off any cash or gifts that you brought in person.
Weekly Communion or Remembrance of Baptism
Depending on the Sunday, we will continue to celebrate the sacraments weekly. Our communion elements will be offered with individual pre-wrapped containers to pick up on your way in. On Sundays where we have an in-person Baptism, we will have an opportunity for Remembrance of Baptism instead of Communion. These will be posted on our website in advance.
Godly Play for Children (age 4 through 6th grade)
10am on Zoom
11am in person
Our Godly Play curriculum is a creative, imaginative approach to Christian formation that engages what is most exciting about religious education — God inviting us into, and pursuing us in the midst of, scripture and our sacred stories. This is a powerful storytelling experience with Ms. Lindsay and Ms. Nikki, our Children's Ministry staff.
For those children attending in person at 11am, masks are required.
For families that may be new to Godly Play, you can reach out to Ms. Lindsay (lrobinson@hilliardumc.org) or Ms. Nikki (nikki@hilliardumc.org) for the Zoom link. More details HERE.
Our Nursery is Closed for Now
Please contact Lindsay Robinson with your questions (lrobinson@hilliardumc.org).
Church Office is Open
Our office is open Tuesdays, Wednesdays, and Thursdays from 10am-1pm!
Please Stay Home if You're Sick
As always, please stay home if you don't feel well or if you or someone in your household has been exposed to someone who has or might have Covid-19.
All participants will be notified if someone in the group has been exposed, and the group will move to Zoom for at least a week.
---
The Other Phases of Our Reopening Well Plan
We're staying flexible as conditions change, under the guidance of our bishop, health professionals, and the Holy Spirit. Here's what we may do under various conditions.