Join us for worship every Sunday at 9 and 11am in the Sanctuary, and monthly in Warehouse 839 (for now), in person or online (livestreaming or on demand). (You don't need a Facebook account to participate; Facebook Live instructions are HERE.)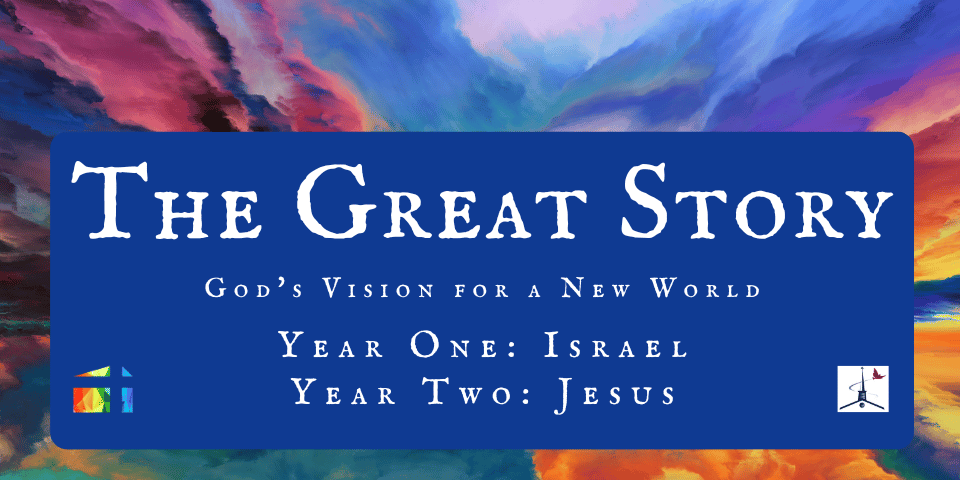 2023 Message Series:
The Great Story Continues
After many of you shared with us your desire to grow in your understanding of the Bible, especially developing a better understanding of how the Old Testament connects with the larger story of the Bible and our everyday lives, in 2022 we read through the key parts of the Old Testament in our Sunday morning sermon series.
The Great Story Year One: Israel
We saw the arc of the story and the beautiful vision it unfolds for humanity: God is a God who wants above all to be in relationship with us and to build the Beloved Community among us here on earth.
The Great Story Year Two: Jesus
In 2023 The Great Story continues with the story of Jesus! We'll spend the year reading through the Gospel of Matthew.
We'll be doing this all in partnership with Fairmont Presbyterian Church in Dayton. Their Lead Pastor, the Rev. Dr. Brian Maguire, and our Pastor April are good friends.
Pastor April speaking unless otherwise noted.
The Season of Easter
April 16 – Do Not Worry
Matthew 6:25-34
Pastor Jon speaking
April 23 – Do Not Judge
Matthew 7:1-14
April 30 – Hearing & Doing
Matthew 7:15-20
Molly Collier, MTSO seminary intern, speaking
May 7 – Jesus Heals Insiders & Outsiders
Matthew 8:1-17
The Rev. John Hoffman speaking
May 14 – Jesus Exorcises the Gadarene Demoniac
Matthew 8:28-9:1
Pastor Jon speaking
There's also a service at 10am today in Warehouse 839.
May 21 – Following & Trusting Jesus – CELEBRATION SUNDAY – 10am
One service at 10am outside in the parking lot.
Celebrating our High School & College Graduates, Confirming our 7th & 8th Graders, giving Bibles to our 3rd graders, and more!
Matthew 8:18-27
May 28 – Resurrection New Life – PENTECOST
Matthew 9:9-26
June 4 – How to Be a Disciple
Matthew 10:1-23
June 11 – Discord and Reward
Matthew 10:26-42
June 18 – The Problem with Religious Expectations
Father's Day
Matthew 11:7-24
June 25 – Jesus's Authority
Matthew 12:15-32
Pastor April in dialogue with Molly Collier