Join us for worship on Sundays at 9 and 11am in person or online (livestreaming or on demand). (You don't need a Facebook account to participate; Facebook Live instructions are HERE.)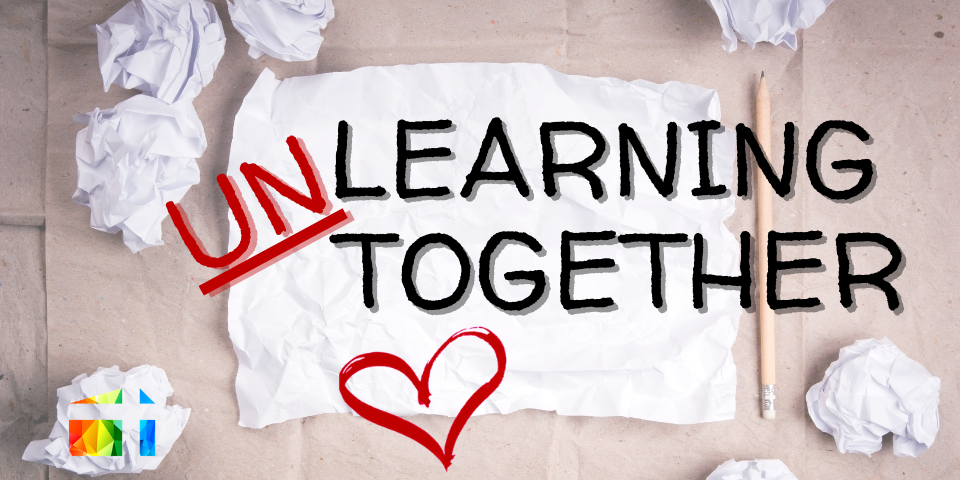 We have all been thrust into a world that we are still only beginning to understand. The way we have done things, thought about things, and approached some of the most fundamental parts of our lives is going to need to change in the coming days and years.
As followers of Jesus the Christ, our call is to love. Our ethic is love. Love is our source, and love is at the heart of our identity. And yet, to live as if this were true — body, heart, and mind — will require some significant transformation.
In many ways, the kind of learning required is really UNLEARNING. The critical and difficult task of re-examining our assumptions, our patterns of behavior, our fundamental values, and the systems that we have put our faith in will be essential. To look again through the lens of the God of love is an act of ongoing courage.
We aren't interested in throwing out the baby with the bath water. We need, more than ever, to re-examine what lies beneath the surface so we can ensure it will help us to build what is most needed for the world right now. The good news is that we won't be facing these challenges alone. The unlearning that is before us will be best done in community.

The Good Gift of our Bodies
This fall we'll be taking a look at the complex and harmful ways we have approached our bodies theologically and practically. How can we more fully claim the sacred worth of our bodies? How can we unlearn the harmful practices of objectification and the influences of patriarchy?
September 5 – THE GIFT OF OUR BODY
Psalm 139, Genesis 1 & 2
Pastor April, Pastor Jon, & Nikki Buskirk, speaking in dialogue
The bodies that we inhabit have always been understood by God to be a good gift. The body was also the chosen dwelling place for God in Jesus. How do we challenge the ways of thinking that have pitted us into these complicated relationships with our bodies? How do we unlearn the interpretations of scripture telling us our bodies are evil? How do we learn how to honor our own bodies? And ALL kinds of diverse bodies?
September 12 – THE BEAUTIFUL BODY
2 Samuel 11:1-5
Pastor April
The challenges for women when it comes to their bodies are many. We are asked to be beautiful, but not too beautiful lest we be a temptation to men. We are told early on that it is our physical beauty (defined by the cultural norms in which we are raised) that makes us desirable, lovable, and worthy. And until recently, we have been told that are bodies are things that can be commented on, touched without asking, and abused by others. All this time, God continues to affirm that the body is where the temple dwells and that it is GOOD. How can we unlearn many of our approaches to the female body so that both women and men can learn how to honor womens' bodies with dignity and value?
September 19 – THE STRONG BODY
Pastor Jon
Men are often told that they have to be the strong one, the powerful one. How can we unlearn many of our approaches to the male body so that both men and women can learn how to honor mens' bodies with dignity and value?
September 26 – THE NON-CONFORMING BODY
Nikki Buskirk, Director of Middle Grades Ministry
October 3 – LEARNING TO TRUST & LISTEN TO OUR BODIES
Psalm 63:1-4, Deuteronomy 5:12-15
Pastor April
These good bodies are often the first to tell us when there is stress or danger, fear or anxiousness, anger or sadness. Part of the rhythm of the Sabbath, letting our bodies rest and pause is not only so we can connect with God and remember our stories, but also so that the bodies can rest and we can listen to what God is doing within us…
October 10 – WORK THAT BRINGS LIFE
Pastor April
How do we think about the work of our bodies in ways that connect to the life-giving and renewing life force?
October 17 – BODIES MADE FOR RELATIONSHIP
Sex & Purity Culture Part 1, INTIMACY
Pastor April
October 24 – BODIES MADE FOR RELATIONSHIP
Sex & Purity Culture Part 2, ETHICS
Pastor April
October 31 – GIVING OUR BODIES THE GIFT THAT THEY NEED
Pastor April
Exploring our complicated relationship with food.