Join us for worship every Sunday at 9 and 11am in the Sanctuary, and monthly in Warehouse 839 (third Sundays at 5pm for the first three months of 2023), in person or online (livestreaming or on demand). (You don't need a Facebook account to participate; Facebook Live instructions are HERE.)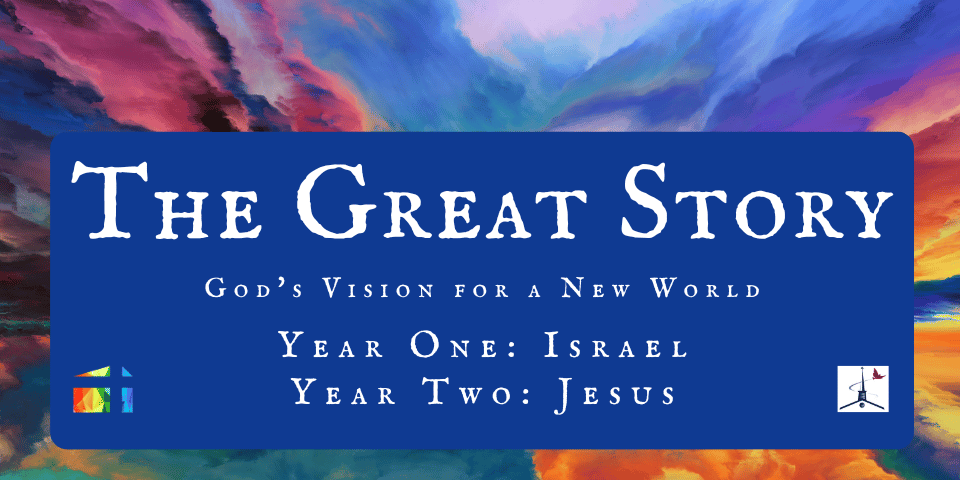 2023 Message Series:
The Great Story Continues
Year Two: Jesus
After many of you shared with us your desire to grow in your understanding of the Bible, especially developing a better understanding of how the Old Testament connects with the larger story of the Bible and our everyday lives, in 2022 we read through the key parts of the Old Testament in our Sunday morning sermon series.
The Great Story Year One: Israel
We saw the arc of the story and the beautiful vision it unfolds for humanity: God is a God who wants above all to be in relationship with us and to build the Beloved Community among us here on earth.
The Great Story Year Two: Jesus
In 2023 The Great Story continues with the story of Jesus! We'll spend the year reading through the Gospel of Matthew.
We'll be doing this all in partnership with Fairmont Presbyterian Church in Dayton. Their Lead Pastor, the Rev. Dr. Brian Maguire, and our Pastor April are good friends.
Pastor April speaking unless otherwise noted.
January 1 – The Genealogy of Jesus
Matthew 1:1-17
Pastor Jon Osmundson speaking
January 8 – Seeing with the Heart: Epiphany & the Magi
Matthew 2:1-12
January 15 – The Slaughter of the Innocents
Matthew 2:13-18
January 22 – The Flight to Egypt & Growing Up in Nazareth
Matthew 2:19-23
January 29 – The Ministry of John the Baptist
Matthew 3:1-12
Pastor Jon speaking
February 5 – The Temptation of Jesus & the Beginning of Ministry
Matthew 4:1-11
Pastor April, with Lindsay Robinson & Nikki Buskirk, Children's Ministry staff
February 12 – The Beginning of Jesus's Public Ministry
Matthew 4:12-25
February 19 – The Beatitudes, & Humanity Transfigured
Matthew 5:1-11
There's also a service in Warehouse 839 today at 5pm.
Season of Lent
WEDNESDAY, February 22 – ASH WEDNESDAY
Matthew 6:1-6, 16-21
Pastor Jon speaking
February 26 – Let Your Light Shine, The Law Uncovered
Matthew 5:13-20
March 5 – Reconciliation Comes First
Matthew 5:21-26
March 12 – The Danger of Desire & the Promise of Covenant
Matthew 5:27-37
March 19 – Love Your Enemy
Matthew 5:38-48
Pastor Jon speaking
There's also a service in Warehouse 839 today at 5pm.
March 26 – True Worship
Matthew 6:1-16
April 2 – True Stewardship
Matthew 6:19-21
April 6 – MAUNDY THURSDAY
Matthew 26:17-30
Molly Collier, seminary intern, speaking
April 7 – GOOD FRIDAY
Matthew 27:27-54
Pastor Jon speaking
April 9 – EASTER – Resurrection
Matthew 28:1-10