Which Path Will You Take?
Make Friends, Connect at Church, Grow in your Faith…
Staff contact: Beth Palmer, Director of Adult Discipleship (bpalmer@hilliardumc.org, 614.876.2403 [church office]).
If you'd like to make a contribution to the church to support Adult Discipleship and our teaching ministry, we'd be honored! Click or tap the Give Now button for information on all the ways to give or to give online.
---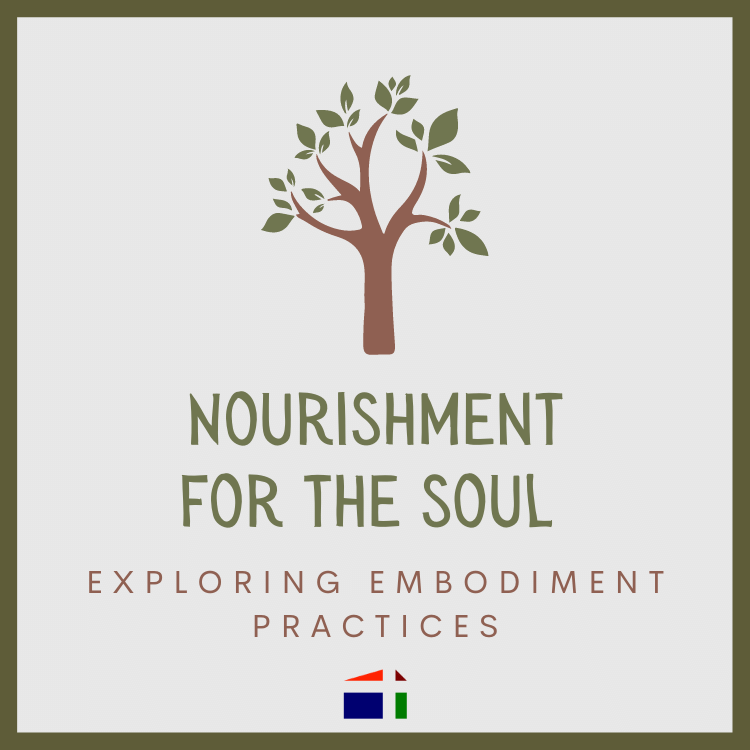 Nourishment for the Soul: Exploring Embodiment Practices
Looking for ways to go deeper in your spiritual life? Have you picked up a copy of the "50 Days of Embodiment" booklet but aren't sure where to start? (The booklet details are available online HERE.) Tried a few things and are looking to connect with others who are doing the same? Then join Ginny Fisher for some Nourishment for the Soul.
4 Select Wednesdays: June 15, July 6, 13, & 27, 7-8pm.
Online on Zoom, Meeting ID = 857 8296 3921. (Go to Zoom.us, click/tap Join a Meeting, and enter the Meeting ID.)
Facilitator: Ginny Fisher.
During each class, we will practice a few embodiment practices, discuss ways to make them part of daily life, and learn from others about what they are learning through these practices.
---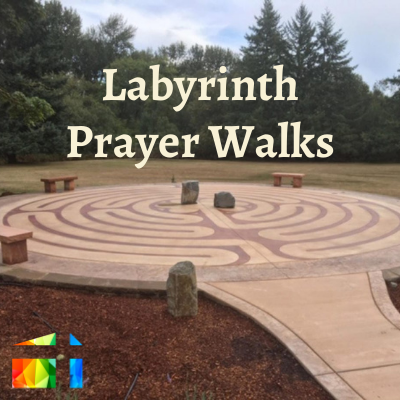 Labyrinth Prayer Walks
A labyrinth is a simple circular path that guides silent prayer — praying while walking is a great way to bring stillness to your mind and heart. Ginny Fisher and Beth Palmer (staff) will facilitate, and we'll teach those who are new to this wonderful practice. Otherwise the time is yours to connect with God.
Join us at three different outdoor prayer labyrinths this summer:
Wednesday, June 22, 7-8pm, at Wesley Chapel Cemetery, 3225 Dublin Rd, Hilliard (at the bend in the road south of Fishinger, near the new columbarium).
Wednesday, July 20, 7-8pm, at First Community Church, North Campus, 3777 Dublin Rd.
Wednesday, August 3, 7-8pm, at the labyrinth off Cosgray & Parkmeadow (just north of Scioto Darby Rd), behind the apartments. Park on Parkmeadow at the first grassy area you come to west of Cosgray; walk through the grass, across a small footbridge, and you'll find the labyrinth immediately on your left (see map below, the location marked in red).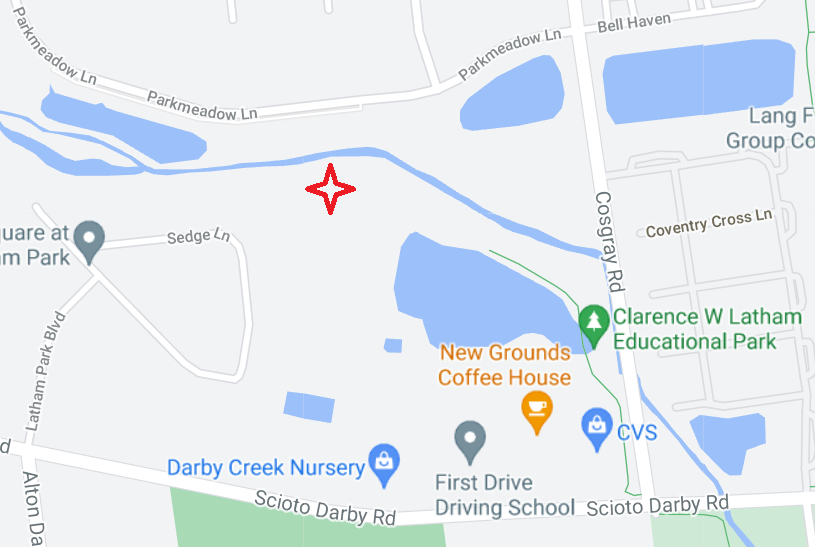 Click here to sign up, or just show up. Bring the whole family; all ages welcome.
---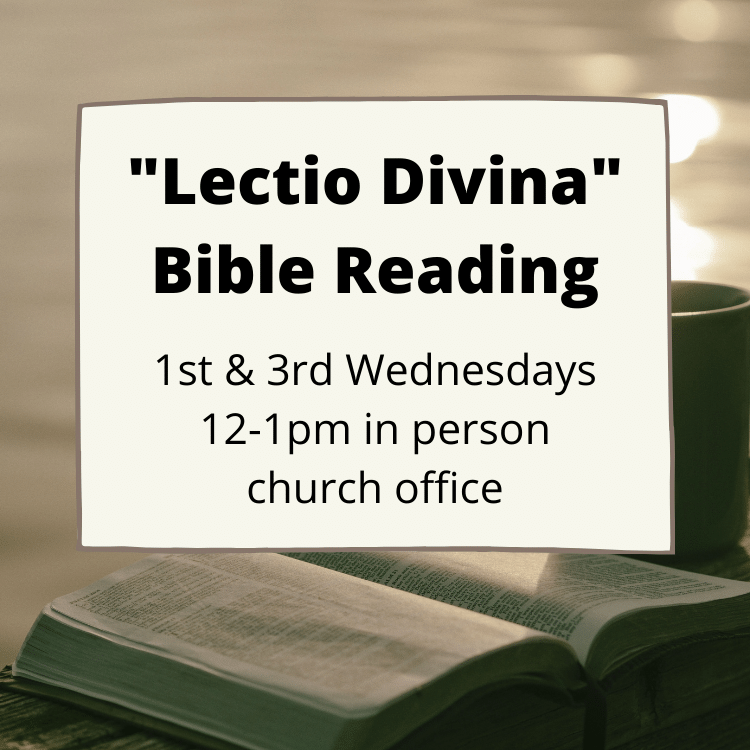 "Lectio Divina"
Bible Reading
1st & 3rd Wednesdays
12-1pm
IN PERSON at church
"Lectio Divina" (pronounced LEK-tee-oh dih-VEEN-ah) simply means "sacred reading" — it's a way of reading the Bible slowly and prayerfully, in small sections, to listen for what God might have to say to you. In doing so, we affirm that we will encounter God directly through this text and that it will speak directly into our lives. We approach scripture as a mystic would, listening for God's word to us.
No experience necessary! We'll teach you how to do it and lead you through each week.
First & Third Wednesdays this Summer, 12-1pm IN PERSON at church (come to the church office). (So May 18, June 1 & 15, July 6 & 20, August 3 & 17.)
Facilitators: Pastor Jon Osmundson and Judy Scott.
---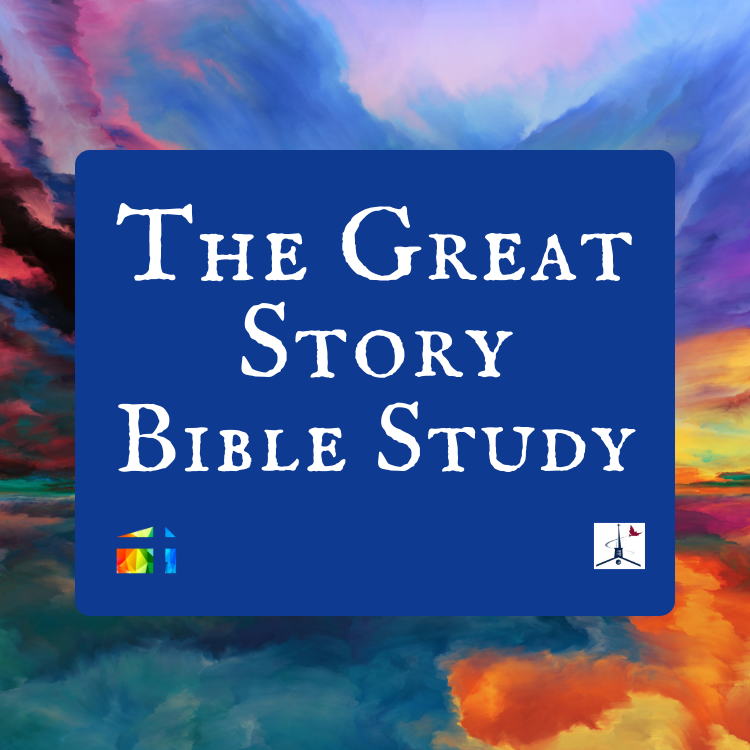 The Great Story:
Weekly Bible Study with Fairmont Presbyterian Church
On summer hiatus – back in the Fall
In partnership with Fairmont Presbyterian Church in Dayton and their Lead Pastor, the Rev. Dr. Brian Maguire, our Sunday morning message series will take us on a journey through the Old Testament during 2022. (Details here.)
On Thursday evenings, Rev. Maguire will lead a weekly Bible study focused on the text for the upcoming Sunday. We approach the text from the perspective of a scholar, affirming that this text has something new to teach us about God and can help us intellectually to think about things in a new way.
On summer break – we'll be back in the fall. Zoom Meeting ID: 820 0253 6057. (Go to Zoom.us, click/tap Join a Meeting, and enter the Meeting ID.) Attend when you're able; join anytime. Make sure your screen name is recognizable so we know to let you in from the waiting room.
---
Hilliard UMC is a hub for learning about the Enneagram, a powerful tool for self-discovery and growth! Click or tap the image to see what we're offering next.
_______________________________________
Foundational Classes
We regularly offer foundational classes to help ground your spiritual life and practice. Stay tuned to this page for details and signup links, as each class is offered.
Knowing Yourself, an introduction to the Enneagram, a powerful tool for self-discovery and growth.
Engaging the Bible, an opportunity to learn how to read and understand the Bible, using an ancient prayer practice called lectio divina ("sacred reading").
Prayer & Meditation Boot Camp, for developing a consistent personal prayer practice.
Complete descriptions are listed HERE.
---
Extra Stuff…
When we're back to meeting in person (after COVID-19): Free childcare for children up to age 11 is usually available for all classes as a gift to you from the church. Take your child(ren) to the Sanctuary building nursery on the main floor or the Warehouse 839 nursery, behind the stage, where they will be met with a smile by trained, paid staff who have completed all the requirements outlined in our Safe Sanctuaries Policy (including a background check).
We don't want the cost of books or class materials to get in the way of you taking a class, so sign up whether you have class or book money or not. Pay what you can from your heart (any amount welcome), or it's on us, happily! And if you'd like to contribute a few extra dollars toward a book or class materials for someone who doesn't have money this time, that'd be great, thank you! We're honored by your support. You can always contribute online here, or class facilitators will collect money at class.
Staff Contact
Beth Palmer, Director of Adult Discipleship
bpalmer@hilliardumc.org
614.876.2403 (church office)