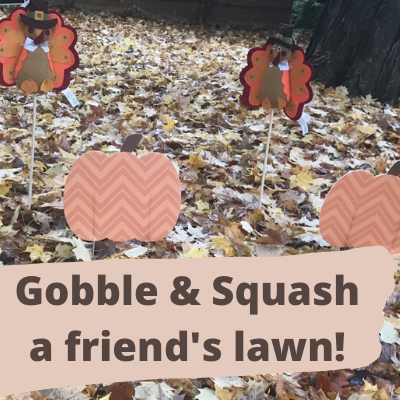 The children in our Faith Finders group (grades 3-6) will be raising funds to support Hope Collective from November 7-20 – you can donate to have a friend's lawn "Gobbled & Squashed"!
The children will place wooden pumpkins and turkeys in your friend's lawn, in exchange for your contribution to the fundraiser!
If you would like to Gobble and Squash a friend's yard, or purchase "insurance" to keep your yard safe from any future wandering turkeys and pumpkins, please fill out this form and get it to Nikki and include your donation.
Make checks payable to Hilliard UMC and put "Faith Finders" in the memo line, or use the giving link below, use the Operating Fund line, and put "Faith Finders" in the memo field..
Staff Contact: Nikki Buskirk, Director of Middle Grades Ministry.